I'm back again from Spain, sad to leave, but happy to rest.   Blancoy Negro workshop weekend was energizing, fast paced,  and uniquely special. Many events that I attend highlight the early original music of the swing era from the late 20's to early 40's.  This event provided an atmosphere for those who love the music and dancing from the late 40's to the late 50's.   Swing, balboa, and boogie woogie collided into the perfect sandwich for those starving to satisfy their dance hunger.  This event is another example of how a group of people can work together doing the best they can with what they have.
The energy never seemed to never cease, especially when the room was packed with excited dancers ready to share the dance floor with each other. The dances were fun, and even included a fashion that displayed beautiful clothes modeled by some of the workshop attendees.
The band was created and groomed from the local Blanco Y Negro studio leadership and played wonderful sets during the Saturday party.  I had the pleasure of dancing all night with the students until the early morning!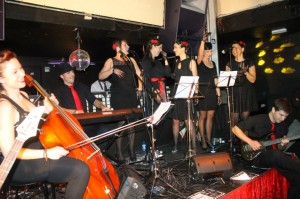 Though being completely exhausted I quickly became energized by the bus tours transporting dancers around the city to dance at special locations.  There was even a dancing in the rain performance by one of the instructors!

Lots of great food and accommodations.  We even ate dinner one night at an American restaurant!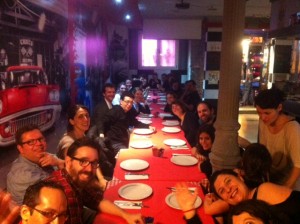 Super fun shim sham and parties!

The classes were so much fun to teach with the students.  Everyone was so focused and patient with one another throughout the weekend of learning.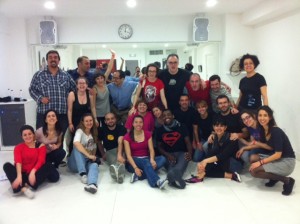 There are always areas where improvement can be made.  One thing that can make this event even better would be to make some small space available for teachers to work with students individually who want private sessions.  I can't wait to return to one of my favorite places to teach!  Madrid!  Thanks to Silvia and Juanjo and all the volunteers who made this event easy for me to come and give myself 100% to the event without stress.
I rate this event…….. 4.2 out of 5 shoes!!
See you soon!
Jamin Jackson