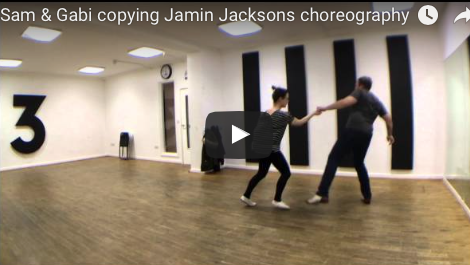 There is something to admire for trying your best. This last contest wasn't easy, since I only gave 12 hours to complete it. However, even though the contest time expired the efforts of Sam Holt & Gabija Zakarauskaitė need to be recognized. England and Lithuania representing the Jazz spirit of collaboration. Make sure to like their video and let them know what you thought in the comment section.  They both win a free 1 hour coaching session!
Here is the original footage.

For more dance inspiration check out my weekly lindy hop dance postings.
About the author:
Jamin Jackson
Artist, Entrepreneur and Coach
"Save me a dance, at least twice!"
Recent post on the blog:


Jamin Jackson Lindy hop moves, Jamin Jackson lindy hop library, Jamin Jackson swing dance moves, Jamin Jackson lindy hop for beginners, Jamin Jackson lindy hop for intermediate dancers, Jamin Jackson lindy hop for master dancers, Jamin Jackson lindy hop vault, Jamin Jackson lindy hop steps, Jamin Jackson lindy hop basics, Jamin Jackson lindy hop beginner lesson, Jamin Jackson fancy moves, Lindy Hop Moves for beginner, intermediate and advanced level dancers,Lindy Hop Moves for beginner, intermediate and advanced level dancers Lindy Hop Moves for beginner, intermediate and advanced level dancers, Lindy moves for beginner, intermediate and advanced level dancers,Lindy Hop Moves for beginner, intermediate and advanced level dancersLindy Hop Moves for beginner, intermediate and advanced level dancer
New Lindy Hop Moves for beginner, intermediate and advanced level dancers,Lindy Hop Moves for beginner, intermediate advanced level dancers Lindy Hop Moves for master swing dancers