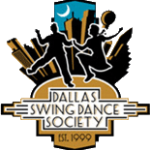 The midwest has a special place in my heart when it comes to Lindy Hop.  Texas seems to be the foot of the great Oklahoma, yet has some of my favorite events to attend.  My lastest  adventure concluded in Dallas, where the Dallas lindy workshop held another fulfilling workshop weekend filled with a great social dancing culture and more.
Social Dancing:  This is one of my favorite parts of every event.  Dallas has a unique group of locals who really share the Spirit of Lindy Hop in a way that is extremely inviting and positive.  They had many local advanced dancers willing to dance openly with all the out of town visitors that journeyed from Oklahoma and surrounding areas.
Bands:  Being the state where the great Bob Willis and Western Swing had its genesis, the event had a few bands that kept the flavor of Jazz swing with a few western swing songs that made the evenings even more unique musically.
Classes:  Most of the classes that I attended were extremely practical and fitting for the needs of the students.  Peter and Naomi, and Andy and Mia shared their wisdom with the students with humor, humility, and a sense of pride in being an important part of the Lindy hop legacy.  I learned not only the material, but how to be a better teacher.
Hospitality:  One thing that made this event really special is how much the locals care about spending time with out of town visitors.  Upon arriving, one of the dancers decided to open up her home for a welcome party that turned out to be one of my favorite parts of the event.  This goes to say that everyone can contribute to the event in unique ways that make a lasting impression on the minds of people.
If you want to enjoy fun social dancing with diverse levels of dancers, and a welcoming cultural atmosphere, this is an event that will continue to grow as a safe place for advanced dancers to beginners to get what they both desire at the same event.
With every event there are small kinks.  Certain things  could have been done if there were more money.  This applies to every scene.  However there are few things that can be done better in spite of the budgetary constrains.  This goes for every event.   Music tempos, and venue acoustics are minor things that can be adjusted.  I'm excited to attend the event next year with even more people from our local community.  I give this event……
4.1 out of 5 shoes