This time instead of writing my perspective on this awesome event that I had the privilege of volunteering, we all get a chance to read another perspective from none other than the event coordinator, my lovely wife, and friend, Gina Bradford.
Enjoy!
Jamin Jackson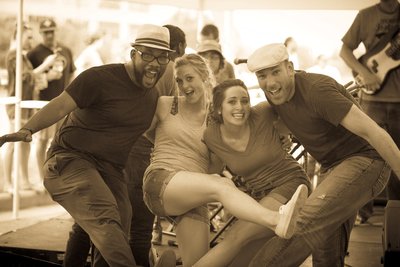 Greenwood Swingout 2013 is officially over. Everyone has gone home and as I review the last 4 days, one resounding theme rings out about this event. Greenwood Swingout does not have a line-up of world famous teachers or headliner bands, but its the dancers who attend and their love for each other and for this dance that make it, as one friend said, a "magical" event.
When Jamin and I created this event we were so excited to share our city with the swing community and to give our city the chance to see this wonderful dance we fell in love with. Tulsa has been our home since we were children and we love this city, however like many cities Tulsa has a sullied past. It unfortunately is the city that had the worst race riot in U.S. history. Now knowing this and knowing us and how we look, you might expect that we might have had difficulties with how people view us being together. However I can tell you we have never in the 13 years of knowing each other had an racist encounter about us or our daughter. Our city like many cities is still unfortunately very much separated by color lines. Although there is a desire in the community to change this, there are often not practical ways of making this happen. So when we learned the history of Swing and its power to build bridges across color lines, we knew that Swing could be a vehicle for helping our city find a way to bridge the gap.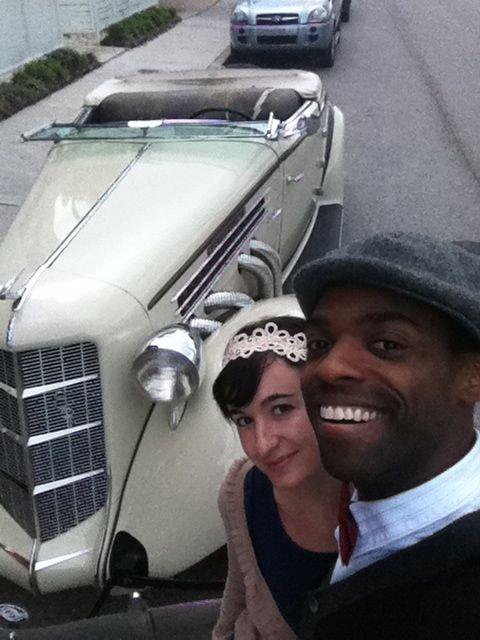 Greenwood Swingout was born out of the idea that Swing, a music and dance that united people even during a time of segregation, could have the same power to unite people today.
There are three main things we hoped to accomplish at this event, first, like every swing event, great lessons mixed with long nights of dancing to great music, second, opportunities for dancers to get to know each other with designated social times and third, creating a platform to share this dance with non-dancers by dancing at public events.
So here are some of my favorite highlights from this years event.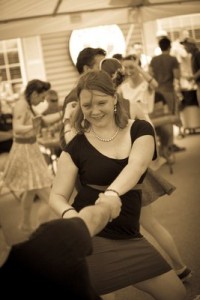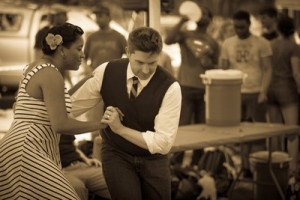 The Friday night Venue
This year the Friday dance was held at a coffee shop called Foolish Things. Despite having concrete floors and not wood, the venue was perfect for the flow of a Friday night dance. Many dancers arrived right off the road and instead of missing out on part of the dance by having to go get food they were able to eat at the venue while catching up with friends.
The shop has large picture windows and passers by would stop their cars on the street to watch. Several of the these people came in and asked how they too could be a part of what was happening and how they could learn.
Dancing at Mayfest
On the opening night of the event there was an outdoor dance at one of Tulsa's largest art festivals. A quartet played live while we danced out on the street. Attendees of Mayfest stopped to look on, little children danced with us and even some of the onlookers were brave enough jump in with us. We even got a small spot on the local news stations! Some of our local dancers got calls from family and friends saying they saw them dancing on TV.
Dancing at Crawfest
Now the saying goes "The best laid plans never do run smooth" but you wouldn't have known it to see the Greenwood dancers adapted to major bumps in the road.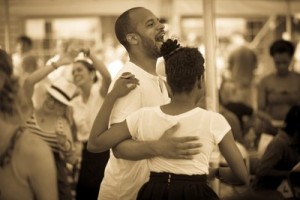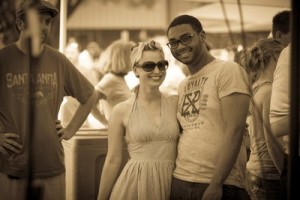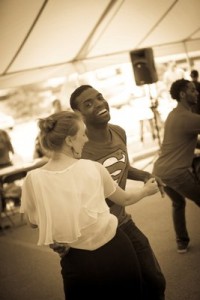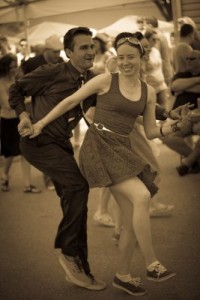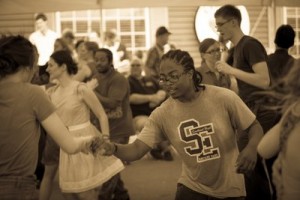 The Friday band, Steve Ham's Jambalaya Jass Band, was schedule to play at Crawfest and we were all so excited to be dancing to them again and doing performances during their break to entertain the crowd.

But upon arrival we discover that another band, one that played funk/rock/blues would be playing during the time we would be there and that Steve's band would be on break. At first it was a real let down, but when the new band began to play the dancers flowed with it and filled the dance floor.
The crowd and band were so excited and amazed to see so many dancers from all races, ages and backgrounds dancing together. During the break some of the girls from Tulsa and the DFW area performed a sassy routine for the crowf and we had a special performance from our friends from Minnesota, Micheal Brafford and Dee Daniel Locke. They brought down the house! And in the end Steve's band was able to go up early for the last hour of the outside dance and we were able to jam out to some great New Orleans style Jazz.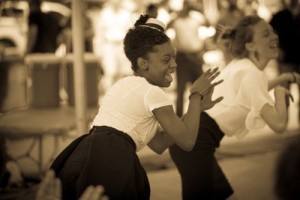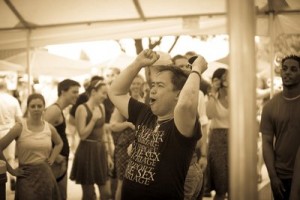 Vintage Night Saturday, Broken A/C, and a Taste of the Savoy
When we told everyone that it was going to be a vintage nigh,t we had no idea how much we were going to be reliving the real Savoy experience. The dance was held at the American Legion, one of the few wood dance floors left in the city.
The Legion is an older building and like most older buildings, has old air conditioning units. Well, on Saturday night, not just one, but two of the three A/C units went out!!!! And with around 150 dancers, the temperature quickly began to rise. We were scrambling to find a solution. I am sure, like me, many people were feeling a little frustrated, but then someone said to me, "I bet this was what it would have been like in the Savoy Ballroom. There would have been no a/c back then." I guess we really are kind of getting the vintage experience.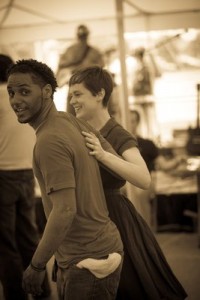 So when I made the announcement about the a/c problem and shared the Savoy Ballroom story, it really turned the mood around. I had several people during the course of the night come up and share how even though it wasn't fun to be hot, it really gave them an appreciation and a taste for what dancers back in the 1930's must have experienced. Other highlights of the evening: the social dance contest, midnight thunderstorms, ice cream at midnight and the excited response of dancers to the Vintage Swing Movement presentation.
My Favorite "Social Time"
When we first started Greenwood Swingout, last year, we intentionally planned it to be the same weekend as several arts festivals in the city. Not only is it a great opportunity for exposure of the dance to the public but it also gives dancers the chance to have a variety of choices of activities throughout the weekend.
If you check out the Greenwood Swingout page and look at the photos you will see some great examples of just some of the activities that dancers did during the down time between classes and dances.
https://www.facebook.com/pages/Greenwood-Swingout/190563591034005?ref=ts&fref=ts
In Tulsa our community of dancers love to dance and then go eat or visa versa, and there is a great supply of locally owned restaurants in the city that are just fantastic. Last year we highlighted a few places that dancers could eat together and since it was so successful we decided to make as many opportunities as possible for people to connect over breakfast/lunch/dinner. The times sharing food with friends, catching up on the time spent apart and laughing as dancers discussed which dancer was which superhero was really, for me, some of the most special times of the event.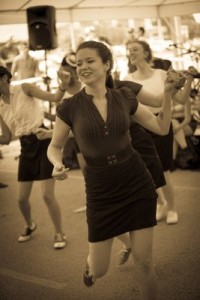 Looking Forward to GSO 2014
At the end of the weekend we walked away with many things we would change and many things we look forward to doing again. Just a few of the changes for next year.
Bands: In Tulsa we have struggled to raise up local bands that play the music that we love to dance to. It is often very challenging and we think this weekend we had some successes and some setbacks on this plan. We want to continue to invest in local musicians so that when the event is over and the out of town bands leave, we are left with local musicians who can play for us.
That being said, we plan next year to bring in at least one headliner band that is traveling the swing circuit, while also continuing to invest in our local talent.

Instructors: We are hoping that GSO 2014 will grow to the point that we are ready to bring on another set of instructors. Our plan is to bring instructors that fit the spirit of this event, that are passionate about teaching, and love to dance with everyone. We also would like to bring a couple that does not often teach in this area. We have a few instructors in mind and we can't wait till we can share the final decision with you.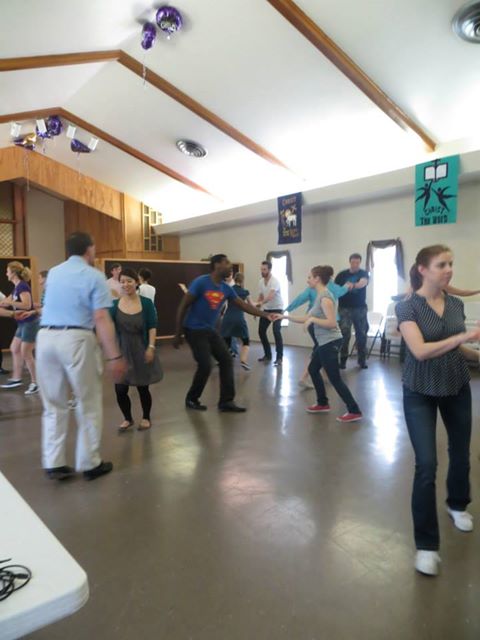 Venue:
Despite the A/C problem American Legion has been a great first venue space for us. But looking to next year we want to prepare for growth. Tulsa has limited venues with wood floors but we have a few places scoped out.
Just a few things we look forward to doing the same or doing more of.
Social Time from the scheduled meal times and locations, to promoting group time out at public festivals, this has been a hallmark of the Tulsa culture that we love sharing with out-of-towners. Plan to see this back in full force next year.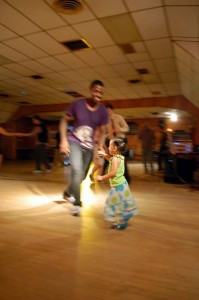 Crawfest/Mayfest:
Despite the setback of the band Saturday at Crawfest, both of these outdoor events were just flat out fun and many people of the Tulsa community were asking how they too could be a part. Big thank you to all the dancers who braved the heat and came out to dance. Tulsa really took notice.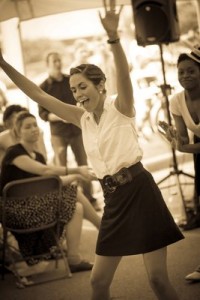 Dancers who attend GSO:
There are a few things that can make Greenwood Swingout 2014 even better, but one thing we know that makes this event so special are the people who choose to attend.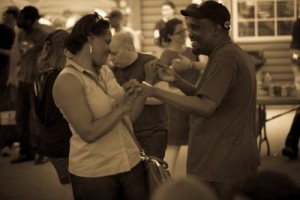 This event would be a hollow shell without them. You all bring the very best of the spirit of the swing community, passion for the dance, an active desire to reach out to new people and a willingness to see your own part in making the swing community grow. We look forward to having you all back again next year!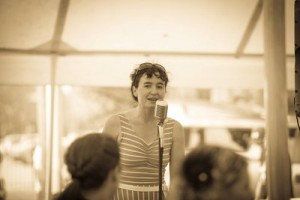 Gina Bradford
Well, with all that said, I rate this event….. 4.4 out of 5 stars!  Definitely something you don't wan't to miss!
Keep swingin'
Jamin Jackson