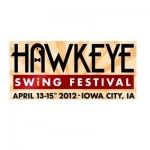 The midwest is one of my favorite places to visit for swing dancing.  Their is such a small town hospitality that is prevalent in these parts.  This event is uniquely it's own in the region.  There is a melting pot of dancers from all over the region converging onto a college campus full of energy.
Dances:
The dances at this event were very unique.  There were more advanced dancers in attendance than what I would have expected.  I had the pleasure to dance with most of my students from the beginner sessions.  There was plenty of space do to the enormous dance floor and medium sized stage.  Both Friday and Saturday dances started around 9pm which gave everyone plenty of time to venture out for dinner to recover from classes.
Music:
The main music was performed by Solomon Douglas which I enjoyed.  They played many new and old renditions of classic dance tunes to keep the dance floor packed.  The Dj's also contributed much to the overall feel to the evening dances without taking away the momentum.
Competitions:
Competition are always fun to watch, and are a good break from the social dancing.  This years competitions were very competitive and entertaining as a whole.  I wanted to go to the restroom, but couldn't leave the ballroom because I didn't want to miss the next big crowd screaming move performed by the dancers.  I think next year the event will have to adjust how much will be happening during the evening due to the increase in competitors.  This is a great problem to have, and I can't wait to see how they adjust competitions to keep the flow, and give all the performers opportunity to be cheered.
Classes:
I had a stellar time teaching at this event.  There were some great organizers with big hearts for the culture, and made it easy for us to focus on our classes without having to commit to excessive peripheral task.  My classes were well balanced, and the students had a resolute focus.  It's amazing how most of my beginner classes have a more focused and determined posture to learn than many of the higher levels that I teach.  I don't know what is contributing to this factor.  The liasons that we had to facilitate us between our classes were persistent in meeting our needs, and consistent in their timeliness.  One even purchased ice cream for me because I had to wait a little longer than they expected upon my arrival at the airport.  Very thoughtful:) Next year I know they will do even better as they work out the kinks with the classroom locations and their matching schedule.  Can't wait to come back to this event if my schedule permits.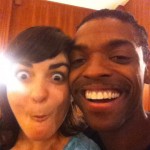 In conclusion:
If you are an advanced dancer and want to get the experience of dancing with really good dancers and also want a friendly environment to invite your beginner dancers this is the event in the upper mid-west to attend. Mark your calendars and keep it on an annual repeat for Hawkeye Swing Festival!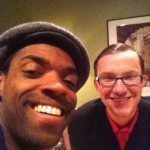 I give this event: 4.5 out of 5 shoes