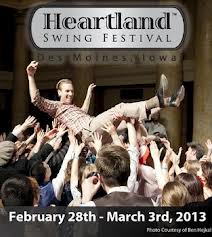 I'm back fresh off the road and fatigued beyond measure.  My voice is slowly returning after having such an incredible time at Heartland Swing Festival 2013!  Every event has a niche with a distinct personality embellished by the leaders, volunteers, and the people who attend.  This Lindy Hop event is mastering the best elements of a large event over 700 people without loosing the heart (pun not intended) and the intimacy that blankets smaller events.   If last year was Star Wars, this year is the Empire Strikes Back!  Heartland Swing Festival 2013 is growing beyond the regional event category into a national force.
Every successful dance event I've attended has some how been able to master making the event feel balanced.  Some have developed there events faster than others, yet they all carry that same fundamental characteristic of balance, in addition to having a regimented attitude towards making the event better each year.  Simply put, these types of events project a big vision and do the best they can with what they have.  Heartland this year was indeed special.
Volunteers:
As a teacher I received a fantastic liaison who facilitated all my practical needs, and helped me with needs that I wouldn't even project to see.   The water buckets during the dance were routinely filled with a smile, volunteers would remind me in a "Vanna White" fashion that I had 10 minutes remaining for my class sessions, and smiling face were always at the registration table ready to great attendees.  The people who sacrifice there time to support the event in this fashion are stellar.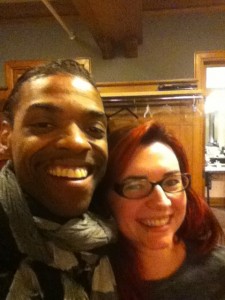 Venue: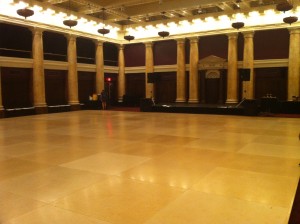 The venue was at the Temple of the performing arts.  A beautifully ornate facility, garnished with up to date remodeling to preserve the art deco and stream line designs.Huge wood floors were brought in to accomodate all the dancers in attendance, plus an overflow room reminiscent of the side room at the "Fed" in Austin Texas.
Classes:
I'm really glad they put together a "Challenge" track for those daners serious about getting the next level in their dance development.  Intense, honest, and still incredibly fun from my observations.
Music:
The bands and Dee jay's were top notch.  I never wanted to stop dancing, even beyond my exhaustion!

Vintage Clothing:
The vendor for the vintage clothing had a huge supply ready for purchase in between classes.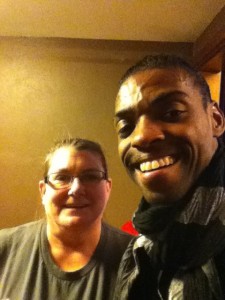 One of the many great photographers for the event!  Ben Hejkal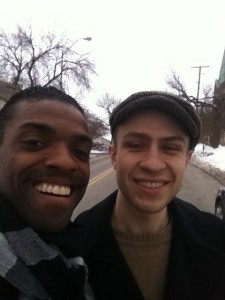 Contest:
This events uniqueness shines bright in how they create a platform for non professional dancers to have an outlet to compete.  There were many surprising contest throughout the weekend.  Including a Pro/Am jnj in which I had the privilege to participate.  They even had a "People's choice" JnJ much like Greenwood swing out and Herrang dance camp.  Big shout out to the Tulsa Oklahoma dancers who one 1st place in the Jack and Jill's!  Congratulations family!

Culture: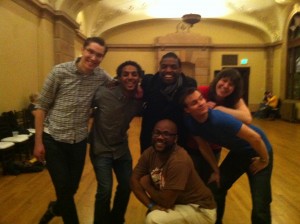 This is a key factor that will determine the long term growth and momentum for an event and for the scenes that are represented by the people who attend.  As a teacher I had a blast getting the chance to dance with many of my students throughout the weekend.  People were friendly, More advanced dancers who attended last year, were even more open this year in the sharing of themselves on the dance floor with the newbies.  The atmosphere at this event if continued will create the perfect storm for an even bigger explosion of new leaders in the dance, and new dancers blitzing into the scene because of this open and approachable environment.
Opportunities for growth:
One thing that could make this event even better, which in this case would simply be my observation, would be to consider consolidating the venues for the late night at the Temple overflow room.    Many out of town dancers had trouble getting to the other venues while dodging all the daring drag racers on the streets.  Fun to watch, but scary to be in.
In Conclusion:
Go to this event if you are passionate about Lindy Hop!   You will find plenty of people to dance with on your level, contest that will push you without falling over the edge, and growth opportunity from world class instructors.  If you feel you've been to this event before, please come back because new people will need your positive energy and there is always something new you will learn from classes and social dancing. I can't wait to return back!  Oh and there is always Zombie Burger to be had.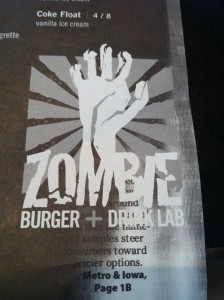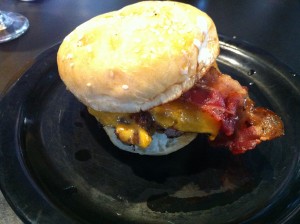 Thank you Dee Daniels Locke for sharing all the laughs this weekend, and giving me the opportunity to work with you as a teaching partner throughout the weekend.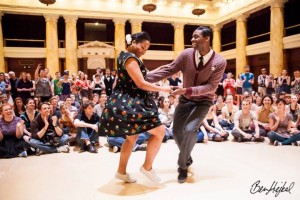 Big shout out to Michael and Eve for all the persistent hard work!
I rate this event this year……4.8 out of 5 shoes
Jamin Jackson