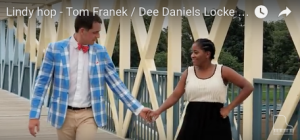 I love a good silly moment. Check out this stellar video routine of Tom Franek and Dee Daniels Locke perform to the Careless Lovers version of "Black Coffee." Who needs pink pants? Everyone does.
Learn more about Tom
facebook.com/TomFranek twitter.com/Tom_Franek instagram: frantic_franek www.tomfranek.com tomfranek.bandcamp.com/ http://smarturl.it/LetsPartinLove Piano entertainer Tom Franek joins up with incredible dancer Dee Daniels Locke for a fun Lindy hop, Charleston, Balboa, Swing dance collaboration around Minneapolis, Minnesota. Framed within a day-dream, this montage features Tom imagining a partnered jazz dance interlude to the song "Black Coffee" by The Careless Lovers. Also featured in this video are a few bits of Frankie Manning's Shim Sham choreography, the rest is improvised social dancing and/or improvised solo jazz dancing. Special thanks to Dee for being so wonderful! Produced, directed, conceived, edited by Tom Franek Filmed by Alec Schwandt
Well if you are going to Heartland Swing Festival 2016 save me a dance – at least twice!
Remember if you are a Vault member and see me at an event, please contact me early to schedule your free private lesson. (First come first served.)
Look forward to seeing you all soon!
About the author:
Jamin Jackson
Artist, Entrepreneur and Coach

Recent post on the blog:
Jamin Jackson Lindy hop moves, Jamin Jackson lindy hop library, Jamin Jackson swing dance moves, Jamin Jackson lindy hop for beginners, Jamin Jackson lindy hop for intermediate dancers, Jamin Jackson lindy hop for master dancers, Jamin Jackson lindy hop vault, Jamin Jackson lindy hop steps, Jamin Jackson lindy hop basics, Jamin Jackson lindy hop beginner lesson, Jamin Jackson fancy moves, Lindy Hop Moves for beginner, intermediate and advanced level dancers,Lindy Hop Moves for beginner, intermediate and advanced level dancers Lindy Hop Moves for beginner, intermediate and advanced level dancers, Lindy moves for beginner, intermediate and advanced level dancers,Lindy Hop Moves for beginner, intermediate and advanced level dancersLindy Hop Moves for beginner, intermediate and advanced level dancer
New Lindy Hop Moves for beginner, intermediate and advanced level dancers,Lindy Hop Moves for beginner, intermediate advanced level dancers Lindy Hop Moves for master swing dancers