Look at all the blood on the dance floor, and listen to the crowd roar! Dance battling is such a fun sport to watch. Lindy hop and Hip hop are rooted firmly in the spirit of improvisation. (Jazz that is.)
There have been a few times where I've been able to instigate a battle or two during a lindy hopping evening, and much more often in my humble hip hop days. *Cough* Not to mention that one time when I accidentally shoved someone into a jam, then watched them land the heaviest head butt to the alpha male chief of the opposing battling team. One of many accidental incidents I'll never regret watching.
I'm not sure how this battle started but here is a clip from one of my favorite lindy hop communities in Mexico City! Pay attention to my favorite part at 6:30. (Shot's fired!!!) For more information on lindy hop in Mexico City click here. Big shout out to Peter, Roxy and the rest of the lindy hoppers who represented.
Click photo for video!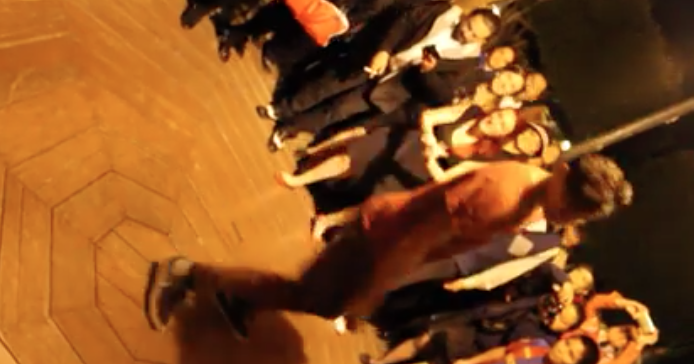 Make sure to like there Facebook Page!
Respect!
Artist, Entrepreneur

Recent post on the blog:



Jamin Jackson Lindy hop moves, Jamin Jackson lindy hop library, Jamin Jackson swing dance moves, Jamin Jackson lindy hop for beginners, Jamin Jackson lindy hop for intermediate dancers, Jamin Jackson lindy hop for master dancers, Jamin Jackson lindy hop vault, Jamin Jackson lindy hop steps, Jamin Jackson lindy hop basics, Jamin Jackson lindy hop beginner lesson, Jamin Jackson fancy moves, Lindy Hop Moves for beginner, intermediate and advanced level dancers,Lindy Hop Moves for beginner, intermediate and advanced level dancers Lindy Hop Moves for beginner, intermediate and advanced level dancers, Lindy moves for beginner, intermediate and advanced level dancers,Lindy Hop Moves for beginner, intermediate and advanced level dancersLindy Hop Moves for beginner, intermediate and advanced level dancer
New Lindy Hop Moves for beginner, intermediate and advanced level dancers,Lindy Hop Moves for beginner, intermediate advanced level dancers Lindy Hop Moves for master swing dancers