Jam circles carry a punch of energy so potent that any  first time viewer cannot help but watch the violent beauty in awe. This is the climactic act of a swing dance evening that meshes the energy of the musicians and dancers perfectly in a tight nucleus, generally at the base of the stage.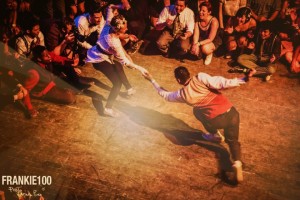 A jam circle is what captured my heart and launched me on the journey of mastering lindy hop many years ago. I hope you are inspired as much as I've been by these fantastic clips. Below are my top 3 best lindy hop jam circle moments of all time – for now.
#3 Lone Star 2010 Jam Circle
This jam started gradually, and then exploded as it went along. Who do you think won this jam?
See what's next on my top 3 lindy hop jam circles of all time – for now list!