When one thinks of Madrid, one might ponder on tapas, late night parties, tortillas and the Puerta del Sol.  When I think of Madrid, there are so many signs in the air pointing to an explosion of Lindy Hop on the horizon in this wonderful city of colliding cultures.
This event marked my first time to be exclusively hosted for a workshop in the city.  Almost every night at 9pm-3am I witnessed people dancing in a small restaurant, bar, or club till the early morning hours.  There were so many at times that swinging out could not be an option.  I like that problem.  Excitement is in the air!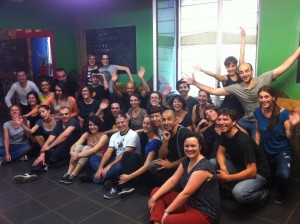 Most of my teaching during this event was a pleasure since the class size for the workshop was smaller and more intimate.  Most of the students were at the intermediate level readily poised and hanging on every word.  Since I visited the scene for a week, I had more opportunity than normal to get to know the students.  Lots and lots of social dancing made this event feel like a big family reunion.All the dances were held at the local venues that the dancers attended weekly.  The Saturday dance even had a funk band during the late night hours that kept us all on the dance floor beyond our fatigue.
Even though I enjoyed all the sightseeing and versatility of the dance locations, this event could be even better next year if there were one main facility for the dances so that everyone could feel more connected throughout the weekend.
Something special is boiling in Madrid, and I'm glad I could be a strategic part to help inspire the development of new leadership to expand the dance in this wonderful region.  Soon very soon I will return.  Big thank you to Necesito swing for organizing my visit.  Also big hugs to those who gave me gifts, smiles, and friendliness that all contributed in making me want to return very soon.  I give this event…….
4.2 out of 5 stars
Hasta luego!!