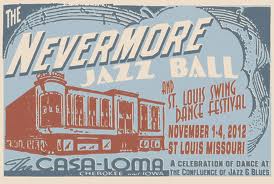 Sometimes there is a gut feeling that an event will be full of awesomeness before the music even starts.   Familiar faces peruse throughout the room with ear to ear grins of anticipation, and all the stress and fatigue one endures from traveling seem to vanish after that first dance.  Believe it when I say that "The Nevermore Jazz Ball" in St. Louis Missouri, is one of the most balanced, culturally rich, and friendly events I've attended this year.  This event is exploding with momentum.  Being that I attended exclusively as a participant and not as a teacher, my general third person perspective seemed more lucid.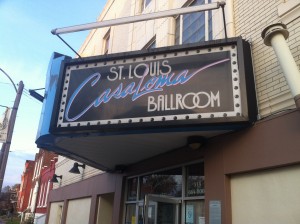 The historic venue breathed nostalgia, packed tightly in a neighborhood as a lighthouse shining a fading era's glow of class from the passed in a maturing city filled with so much rich music and dance history. The vintage look, wood floors, balcony seating, and a smell that would take you back to the 1930's all added to the contrast of a hotel room typically used to ease the  accommodations of the hundreds of dancers who storm a city for a weekend of endless swing outs.
The music from both bands and Dj's amplified the joyous occasion till the early morning hours Friday, Saturday and Sunday.  Everything had class from the MC being professional, the contests being raw and simplified, the teachers empowering the students with techniques and shapes they could apply on a crowded dance floor with varying tempos.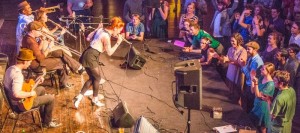 I could go on and on about all the things that are in place propping up this event for an explosion.  The Jazz Crawl through the historic Cherokee Street also highlighted how powerful this culture can be to people not yet a part of our community.  Random onlookers were stopping and taking pictures, recording video and smiling from watching all the various dancers sing and dance to the wonderful music.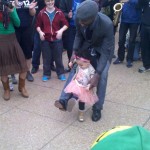 One thing I noticed about this event that I appreciated much, is to see so many new people at the intermediate level filling the majority of the room.  Don't get me wrong there was a share of advanced dancers who visited from out of town bringing their energy, but the dominate force of the event was from the upcoming lindy hop fanatics at the intermediate level.  It was especially moving to see them practice fearlessly the materials they learned in class.  Big shout out also to all the advanced dancers who danced openly with everyone, setting a precedent and atmosphere desired by everyone.  This all indicated that there is strong consistent leadership investing in the local community of the St. Louis, and a strong bunch of leaders in the surrounding lindy communities poised to take the dance to the next level.
I even discovered the greatest donuts I've ever had, and that is a big statement being a serious food addict.  "John Donuts"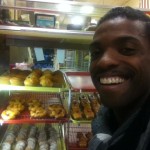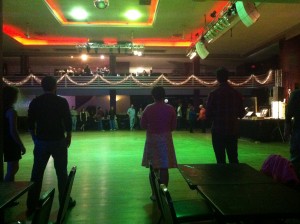 Every event has things that can be improved and maximized to make the experience better for the future.  Something I noticed that could be adjusted next time is the song tempo's.  Many people noticed that on Friday there were times when  3 – 4 fast songs would play in a row.  This is a minor detail that I danced through happily since I love dancing fast, but many newbies were starting to get frustrated.There is so much time left until the next Nevermore Jazz Ball and I can't wait. I'm excited for the St. Louis swing dance community and I'm ready to ride the wave of momentum.
Big thanks to Christian, Jenny and the committed volunteers for putting this event in motion!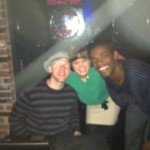 I rate this event…..4.8 out of 5 shoesBe there next year, this event is a must!
Jamin Jackson