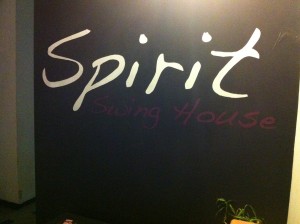 Every few weeks I have the opportunity to travel and make new friends with this amazing vehicle called swing.  There are so many interesting people and captivating encounters that one may find it difficult to find a sense of reality in the dreamy moments.  There resting in every moment is an expected surprise.
This last trip, though difficult for me to say the next statement, was possibly the "best" that I've experienced in last 48 events I've attended in the last 2 ½ years.  They have cultivated one of the most magnetically stable,  passionately committed, and systematically duplicatable lindy hop scenes in the country of Spain.  I can't believe I said that, but for me Valencia left me with an aching heart to never return home.  It's very rare for me to fly all the way across the world for one weekend and fly back to America.  After meeting many of the people of Valencia at another event in Spain I knew making a physical visit was necessary.  Below is my review of this amazing event called the "Spirit of St. Louis."  Watch out lindy hop world, Valencia is in the house!
Leadership: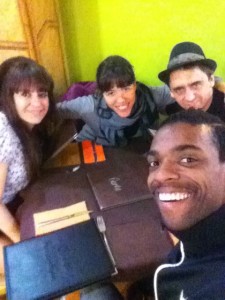 This scene has 2 incredible leaders setting the standard for creating a family feeling amongst the newest to the oldest of dancers.  You know how powerful leaders can be when they make you feel good about yourself yet inspiring you to become better.   These two have set some incredible standards in motion for future generations of people who join the lindy hop culture.  They have set up an incredible program for the training of musicians to effectively play for dancers!  Usually when you hear people in training you don't think that they would make a cd and perform at the Saturday night dance, but this is how great the standard has been set.  I can't say enough of how overwhelmed I was by their servant leadership throughout the weekend.
Music: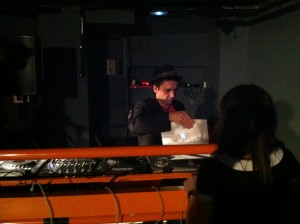 Music for me as a dancer is very important, and I loved the philosophy that this scene has in exposing authentic swing music even to the beginners.  From the DJ'ed music to the band everything was done in excellence.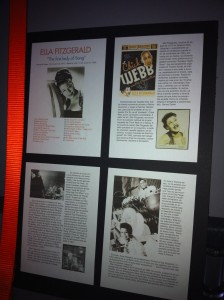 They even highlighted artist throughout the weekend by playing a short catalog of their music so that people could learn more about the people behind the melody.  Simple, and genius.  Thank you Javi for the idea!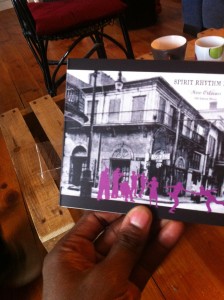 Make sure everyone starts listening to the new creations of the Spirit Rhythm Band.
The students as a whole were very receptive to learning.  This is one of the few places where I noticed that if students didn't understanding something they were learning, they took action and tried the ideas before asking questions.
It was so interesting to observe students processing new information like little babies learning to walk.  They just tried to do everything fearlessly, and without hesitation.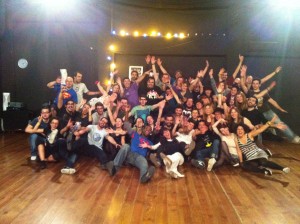 Every one of those moments felt audacious and bold, yielding a big smile from me as I stood in the middle of the circle.  It was also amazing to see the students apply class material on the dance floor during the dances.
The dances were packed full of people sweating, smiling, and dancing until 7 in the morning.  Every night.  It was even difficult for me to decide to go to sleep early (5am) so that I could be rested for class at 11:30.
Venue:
The venue for the classes and the dance were held at the Spirit Swing House.  This is such an important place of training for dancers and musicians.  It was so practical to be able to stay at the studio since they had extra housing provided at the facility.
Culture:
I keep mentioning this important word, because this is where the magic of duplication takes place.  Naturally, it seemed that this scene wanted to do everything together as one family.  Eating, relaxing, walking, talking, you name it.  There was never time where I noticed that there were "cliques" of people doing their own thing.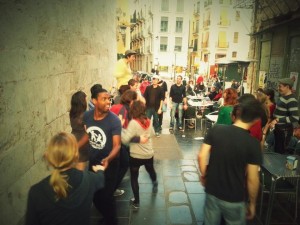 Of course there is nothing sinister in doing something by oneself.  It just seemed that I never wanted to be by myself until my fatigued body demanded that me and my old friend Mr. Bed, and Mrs. Sheets shared plenty of time. At least 3 hours a day.  I haven't felt this much love, from complete strangers ever in my life, and I'm extremely grateful for have had the opportunity to experience this in person.
This lindy hop culture in Valencia is so primed for an explosion of new dancers in the scene. When people visit they stay and easily integrate into the existing family.  This is such a strong principle that so many can learn to cultivate.  The dance is much bigger than us as individuals, and we must always be thinking about growing the scene for future generations.  That can be done if everyone does their part in excellence.
One thing that could make this event even better the next time is maybe a bigger venue to facilitate more people, because I know there will be many many more people coming next time!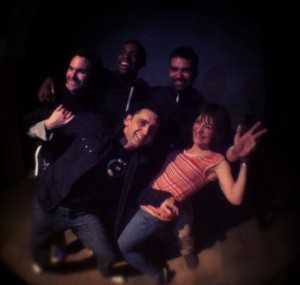 In conclusion, I want to give a big thank you to the organizers Encarny and Javi for their leadership, love, and dedication to the betterment of the people of their scene.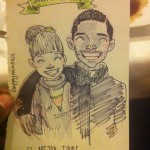 Big thank you to my partner Sonia for all the laughs and fun memories sharing  our time with the people. Like the old saying goes.  "People don't want to know how much you know until they know how much you care."  I'm excited to return in the future and be a part of this incredible Lindy Hop movement in Spain.
I rate this event……4.9 out of 5 shoes!
Jamin Jackson