The midwest in America is know greatly for being one of the most dangerous places to live because of "tornado alley."  Ironically, it has some of the most momentum for new dance scenes sprouting up all within a 4-6 hour drive.  Sunflower Swing 2013 continues to add a big punch of fun for the locals and surrounding dance communities.    This is one of those events where you can visit knowing a few people and leave knowing everyone.   This event has fine tuned the necessities this year, and returns strong bringing back signature contest, fantastic Dj's, top notch education, and lots of social dancing.
One of my favorite things about this event is the chicken sandwich competition, in which most would have to attend to understand how funny it is watching dancers do the silliest improv performances jack and jill style to all kinds of random music.    Hard not to laugh and hard to judge a winner since everyone brought there "A" game.   During one of the evenings, a choreography context commenced, highlighting the creative wit and spontaneity of a dance teams performance ability within a short few minutes.  Entertaining indeed.  Fun solo jazz competition kept the late night contest competitive.
All the performances were really entertaining while  being kid, adult, and grandma friendly.  In most cases less is more. That is something to be said in our current time where sensory overloaded crudeness numbs most of entertainment.  Big hats off to all the performers for working in excellence while keeping it classy.
The Dj's spinned jumpin' tunes keeping everyone swinging till the late evening.  There was such a harmonious balance of the music soundscape played throughout the entire weekend, that one would forget there were different dj's.  You know the music is great when you can't "Shazaam" many songs with your iphone, and purchase via the itunes later in the evening.  These dj's appreciate the value of collecting quality material, in many cases music that had to of been purchased via a "CD" and converted to an mp3.
Of course I had to stop by some of my local favorite places to eat and indulge.
The teaching at this event this year was especially sharp.  Top notch international instructors shared golden nuggets of principle so effectively, that many of our dancers matured in so much that you could see and feel the difference by the Sunday evening dance.  Many students continued there praise for how patient and clear the instructors shared the empowering information.  Since I attended this event without having to teach, but to judge a few competitions, it was quite refreshing.  I had the opportunity to take class again uninhibited by time constraints and the nagging feeling of over exhaustion.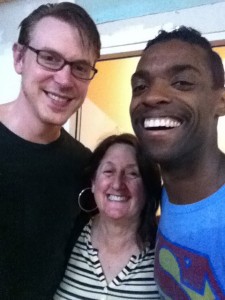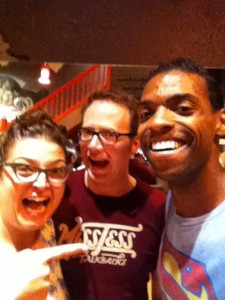 The social dancing time tends to be my favorite part of an event, especially in the midwest.  There are so many familiar faces that it is very difficult to take a break and relax even in between each social dance.  The facility was the right size to accommodate the amount of people that attended.  Not too big, not too small, not to cold, and not to hot.  One thing that could make this event even better would be more time to dance Sunday night.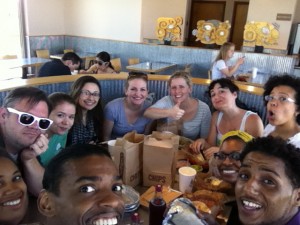 Sunflower Swing is just a really good event to attend for having a stressless weekend of fun and dancing.  It resembling the familiar feelings of the family reunion "you want to attend."  Doesn't every swing event feel that way?  If you haven't yet attended this event and you live in the midwest, mark your calendar for next year.  I know you will have a good time!
I rate this event……
4.2 out of 5 shoes
Jamin Jackson